Md7 is Technologically Agnostic
By Tom Leddo, Vice President
At Md7, we sometimes get asked "are you familiar with ___________ (fill in the blank with any type of technology) or have you worked with ___________ (fill in the blank again with any choice) equipment before?"
Our answer is always the same: "Yes, but we are technologically agnostic"
Dictionary.com defines agnostic as:
of or relating to agnostics or their doctrines, attitudes, or beliefs,
asserting the uncertainty of all claims to knowledge, and
holding neither of two opposing positions.
The third one, "holding neither of two (or in our case more) opposing beliefs" is the one that applies for Md7. In short, as a vendor in the wireless infrastructure industry we are indifferent to any and all types of technology and/or equipment manufacturers as long as they perform reliably and are both safe and legal. However, we will admit to getting excited about some of the options especially when they weigh less and use less space!
When I first started in the infrastructure industry in September of 1995, one of the first RF engineers I met was working for PrimeCo PCS in Houston, Texas. He explained Code Division Multiple Access (CDMA) to me. To be candid, I didn't really understand the difference at that time between CDMA and Global System for Mobile Communications (GSM). But, since my two largest customers at that time were PrimeCo and Sprint PCS who were both building their new CDMA networks in Texas, I, of course, agreed with them. I preferred CDMA and kept getting work.
Over time, I began to get work from other clients who were GSM-based and so my opinion began to change.   Now LTE is, of course, making this a moot point.
More importantly, what I also found was that the work I was doing was in the "wireless infrastructure industry", not the "wireless industry" as a whole, and that I specialized in towers and real estate as part of the infrastructure. My job since 1995, and the job of everyone at Md7 today, is to get sites on air faster, regardless of technology.
If it is a new site; we are tasked with finding candidates, securing leases, A&E, zoning and permitting, environmental review/approval, NTP and construction management, all in an effort to get the latest technology that our clients have chosen to deploy on air as quickly as possible.
To take it a step further, we are also indifferent to traditional macro sites, DAS and small cells. Yes, the process and skills between the three do vary. The process and skills needed to deal with a tower or roof-top owner for a macro are very different from a major sports arena for DAS and a municipality or utility for pole mounted nodes.
But, in the end, the task for Md7 is always the same – work with and coordinate the multiple parties necessary to get the signal on air….fast. And we are getting pretty good at it.
---
California Public Utilities Commission Reform Proposed
By Lynn Whitcher, General Counsel
If you are working on small cells or DAS deployments within the public streets (a.k.a. rights-of-way), you have likely dealt with the state's public utilities commission, which often controls attachment guidelines, fees, safety, and other aspects of siting. In California, that may soon change. On March 9, 2016, an Assembly Bill was proposed that would revamp the role the California Public Utilities Commission (CPUC) plays in regulating utilities.
Created in 1911, the CPUC is a state agency that regulates privately owned electric, natural gas, telecommunications, water, railroad, rail transit, and passenger transportation companies.[1] Citing the changes in technology brought about in the 21st Century, the fact that the CPUC is the product of a different era and ethical lapses that have plagued the Commission, Assembly Constitutional Amendment 11, known as the Public Utility Reform Act of 2016, will allow the reallocation of all, or a portion, of the functions of the CPUC to other state agencies, departments, and boards.[2]
"The CPUC is spread too thin, and has too many issues within its jurisdiction. It is time to think about how we can make it more focused, specialized, and accountable," said Assemblyman Mike Gatto (D-Los Angeles), who introduced the Bill along with Assemblyman Scott Wilk (R-Santa Clarita) and Assemblyman Marc Levine (D-Marin County) in the hopes that this would provide greater protection to the public.[3]
"Recent disasters, like the Aliso Canyon natural gas leak, highlight the fact that the CPUC is unable to adequately balance the regulation of its diverse entities. The same agency that regulates moving companies cannot be expected to also effectively regulate electrical power and natural gas safety standards. It is far past time for the modernization that the Public Utility Reform Act will provide."[4]
Surprisingly, during an oversight hearing before the California State Assembly, CPUC President Michael Picker echoed these statements when he indicated that he has come to the personal conclusion that the CPUC shouldn't be doing telecom anymore and that things that are largely ministerial, like cable registration, should perhaps be done by the Department of Consumer Affairs. These are competitive markets that cannot be effectively regulated by the CPUC given the limited authority of the Commission. A video of Mr. Picker's comments is available here.
The Bill proposes an amendment to the state constitution to give voters an initiative to modify the CPUC's role. In order to be placed on the November ballot, the Act would need 2/3rds approval in both the Assembly and Senate, followed by the approval of a simple majority of the voters.[5] If passed, the Act would go into effect on January 1, 2009.
Details on which state department or board may take over telecom siting is not yet known at this time.
[2] http://www.leginfo.ca.gov/pub/15-16/bill/asm/ab_0001-0050/aca_11_bill_20160309_introduced.htm
[3] http://californianewswire.com/calif-assemblyman-mike-gatto-releases-cpuc-reform-initiative-as-proposal-gains-steam/
[4] http://scvnews.com/2016/03/10/wilk-amendment-to-modernize-role-of-public-utilities-commission/
[5] http://scvnews.com/2016/03/10/wilk-amendment-to-modernize-role-of-public-utilities-commission/
---
The Impact of Wireless – Where to Watch a Sporting Event
"Should I stay or should I go?" – The Clash: Combat Rock, 1982
The advent of the Ultra HD TV combined with the high cost to attend a major sporting event has drawn millions away from the stadiums and arenas to watch their favorite teams at home or in sports bars.   Now in response, many venues are getting savvier about wireless technology and smartphone apps in an effort to offset this trend.
Personally speaking, it started several years ago when I paid a lot of money for poor seats, parking and low quality concession food to watch an NBA game where Shaquille O'Neal didn't even hustle back on defense. Over time, I found myself upgrading my TV and watching more games at homes. I also have discovered it is a lot of fun to watch my favorite team with other likeminded fans in a sports bar where I can watch several TVs, as well as have food and beer brought to my table.
And now, watching a game is becoming a multi device experience. We watch the game on TV while we use our phones, tablets and laptops to look up stats, track scores, tweet comments and monitor our fantasy teams.
But the venues are getting smart and beginning to counter with some attractive features to get us back in the seats.   For example, stadiums have been working to improve the food quality by offering food such as local BBQ or sushi. Stadiums have also worked to increase service by delivering food to your seat within the venue. And the cellular operators are significantly upgrading their networks in and around the venue while the stadiums are enhancing their own Wi-Fi for fan use. Additionally, stadiums are developing apps to enhance the fan experience. These apps manage ticket and parking access, allow you to order food for delivery to your seat and/or express pickup and also offer HD instant replays of the action.
The biggest challenge these stadiums face is keeping up with the fans' demand for wireless data, which can substantially impact the overall fan experience.
It is estimated that the amount of data traffic consumed at the Super Bowl doubles every year. This year, the four major carriers are reporting that the fans in Levi Stadium in Santa Clara, California for Super Bowl 50 used a combined 15.9 terabytes on their networks and we are still waiting for numbers from the stadium Wi-Fi.[1] These early reports already indicate that this will double the data consumed at Super Bowl XLIX in 2015 at the University of Phoenix stadium in Glendale, Arizona, where fans used 6.5 and 6.23 terabytes of data between the four major carrier networks and the stadium Wi-Fi respectively. This essentially doubled the 2.5 TB of cellular and 3.3 TB of Wi-Fi consumed in 2014 at Super Bowl XLVIII in MetLife Stadium in New Jersey.[2]
While the typical sporting event does not consume anywhere near 15.9 TB, having adequate bandwidth in and around a stadium certainly impacts the fan experience.
Personally speaking I have experienced both poor and excellent in-stadium connectivity. I have attended some regular season college football games in campus stadiums where I could not even get a simple text to go through to ask if my wife if she wanted a soda while I was in line at concession.   What was really annoying at each of these stadiums was that I knew other people who subscribed to a competing cellular carrier and had no issues. One was even streaming video of another game on the other side of the country.
On the good side, I experienced fantastic connectivity at the University of Phoenix Stadium in Glendale, Arizona while attending the College Football Playoff National Championship game in January of this year. Since this was the same stadium that hosted the Super Bowl in 2015 I had high expectations, which I am pleased to say were exceeded. I was able to upload photos and short videos, participate in group chats with other friends in the stadium and even did a video call (albeit a bit choppy) with my son who was watching the game at home and was very excited about the outcome of the game.
As host of the most recent Super Bowl, Levi's Stadium in Santa Clara is most likely the premiere venue in the world for wireless deployments. The stadium is divided into 40 coverage zones with 400 antennas (many under the seats by fans' feet) and 450 remote radio units. The stadium also boasts its own Levi's Stadium app. However I can only assume it will soon be eclipsed by NRG Stadium in Houston, Texas when it hosts Super Bowl LI in February of 2017.
So, the thousands of folks in the wireless infrastructure industry have done a great job of enhancing the fan experience inside some of the large sports venues. But not every stadium can deliver this superior connectivity. It is simply too expensive to put millions of dollars into every stadium and arena in the country.
And this combined enhanced experience of nicer stadiums, better food and high bandwidth comes at a cost to consumers. Meanwhile, the increased quality of TV's combined with the comforts and food in homes and favorite sports bars gives us an equally enjoyable experience without fighting the crowds.
In my opinion, there is nothing more exciting than the atmosphere at a live game, but sitting in front of a TV with friends and food where I can get commentary to go with each play provides a better viewing experience. I guess I am still undecided.
[1] Mobile Sports Report, February 2016 – http://www.mobilesportsreport.com/2016/02/super-bowl-super-das-verizon-att-combine-for-12-2-tb-of-cellular-data-at-super-bowl-50/
[2] Mobile Sports Report, September 2015 – http://www.mobilesportsreport.com/2015/09/dgp-upgrades-levis-stadium-das-in-preparation-for-super-bowl-50/
---
I'll have one order of "Stir-Fried Wikipedia"
Tom Leddo
Vice President
In his keynote address at CTIA 2015, Wikipedia founder, Jimmy Wales told a humorous side story about the name "Wikipedia" somehow getting mistranslated into menus at Chinese restaurants (see the included photo).
Next time I am in Beijing I'll be sure to sample one order of the "Stir-fried wikipedia", the "Stir-fried wikipedia with pimientos" as well as the "Fried special wikipedia" from the menu in the photo. I have no idea what I'll get but I think I can muster up the courage to give all three a try.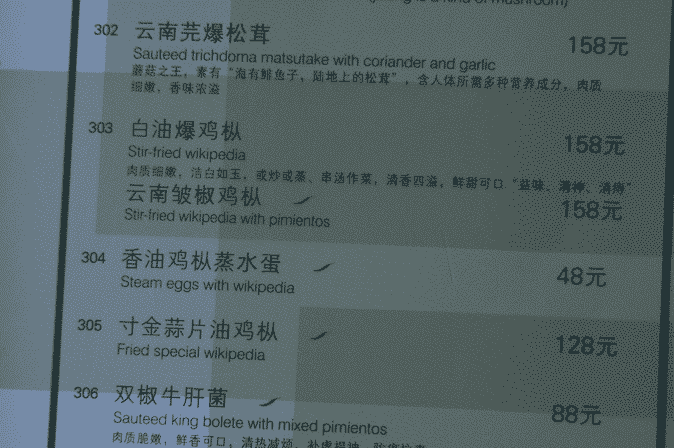 Wikipedia, the web-based, free, editable encyclopedia, contains over 35 million articles written/edited by over 70,000 online contributors in 290 different languages.
So, as Wales tells the story, when he asked a team of Wikipedia's contributors in China how this could have possibly been mistranslated, they collectively came to the conclusion of "we have no idea".
"Hey I'm making the new menu, what's the English name for those flat crispy mushrooms?"
"Um, there isn't one."
"Well what should I put down here?"
"I don't know, look it up in Wikipedia."
"What?"
"Wikipedia!"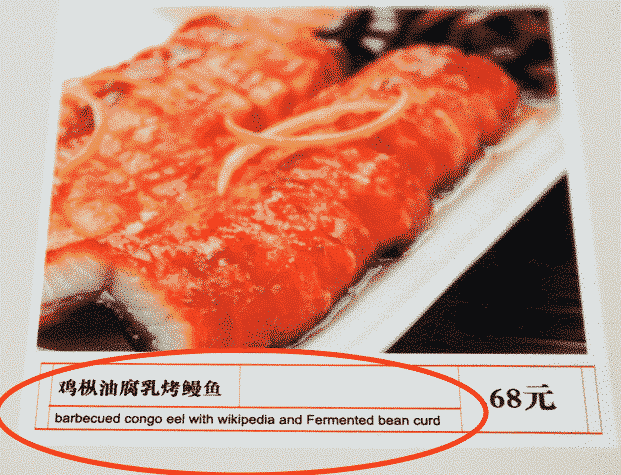 I argue that Mr. Benson's theory is as good as any. However, it doesn't explain how other restaurants came up with a similar mistranslation since the one he ate at is not the only one with this mistranslation.
Another blogger, Mark Liberman also calls out a mistranslated use of the name Wikipedia – "barbequed congo eel with wikipedia and Fermented bean curd." While it sounds like a great deal at only 68 Yuan, I simply don't think I am adventurous enough to try an order of "congo eel" even if this place makes the best tasting "wikipedia" in all of Beijing. I don't order eel sushi and I am not going to order "congo eel" either.
Blogger Chris Leo posts others that are funny too – the following are my five favorite. However, you can use Google to find a several more side-splitting translations, but beware, many contain vulgar language.
"Chicken without sexual life" – Tong Zi Ji 童子鸡(do you mean virgin chicken?)
(Proper English translation should be "Spring Chicken" or "Poussin"/"Coquelet" in French). They refer to young chickens which have been bred for eating (for less than 3 months).
"Red burned lion head" – Hong Sao Shi Zi Tou 红烧狮子头
(Proper English translation should be "Freshly Stewed Pork-balls") – note that it's actually pork, but the fact that it looks like lion head, that's why it's called Lion Head (shizi tou) in Chinese. But in English, it would really be misleading if people mistake it as lion meat.
"Husband and wife's lung slice" – Fu Qi Fei Pian 夫妻肺片
(Proper English translation should be "Spicy Pork Lung-slice") – it's a Sichuan food.
"Government abuse chicken" – Gong Bao Ji Ding 宫爆鸡丁
(Proper English translation should be "Chicken with Cashew Nut" or as it is known in the west, simply, "Kung Pao Chicken"). It's actually a Chinese food of Shandong origin, but is often mistaken as a Sichuan food as it's quite spicy. I don't know its historical origin, but there must be a history anecdote that leads to why it was literally named "Court Abused Chicken".
"Bean curd made by a pock-marked woman" – Mapo Doufu 麻婆豆腐
(Proper English translation should be "Bean curd with spicy minced pork") – it's a Sichuan food.
---
Are Zoning Renewals on Your List?
Cynthia Hanson
Md7 Land Use Counsel
Have you made your list and checked it twice? Do you know what approvals you will need to get your site on air? What about to keep your site on air? Have you looked at your CUPs (Conditional Use Permits) and SUPs (Special Use Permits)? Do you know if and/or when they expire? Do you know how and when to renew these permits so they don't lapse?
Many CUPs and SUPs have a termination date. Usually CUPs and SUPs permits are good for a period of 5 or 10 years. Most municipalities will agree to an extension, usually an additional five year term, if the extension is requested prior to the expiration of the permit. If an extension is not requested and not granted, the permit expires and the carrier's equipment (antennas, mounts, cables, cable trays, base station, cabinets, and even tower) become unpermitted equipment on the site and subject to removal. This unpermitted equipment can be removed by the municipality without notice and at the carrier's expense. The carrier may also incur fines for each day the unpermitted equipment remains on site. Many jurisdictions will not issue new permits to carriers with permit violations such as an unpermitted wireless facility or unpermitted equipment on a site. If you don't timely renew, you can be back at square one with a gap in your network and starting the CUP or SUP process over. Plus, when you go to apply for the needed CUP or SUP, you will be trying to get that approval with an unpermitted equipment issue, fines, penalties, and asking an angry jurisdiction to issue the permit. It's not a pretty picture.
Judicial relief is not readily available either. Take for example the American Tower Corporation vs. City of San Diego case. In that case, American Tower asked the City of San Diego to renew CUPs for 3 of its towers upon the expiration of the CUPs. CUPs had regularly been renewed by the City at other American Tower sites and recent applications by co-locators to install equipment on these sites had been approved. However, the City of San Diego required American Tower to start over and submit new applications for each site. New public hearings were also required. The City's planning staff recommended denial of the new CUPs because the aesthetics of the towers did not meet the requirements of the City's Land Development Code. At the hearings, the CUPs were denied by the City. Years of legal battles ensued. Agreeing with the denial of the CUPs, the final court decision said that American Tower should have known their request for new CUPs could be denied because the original CUP stated clearly that all activity must cease and the sites must be returned to their original condition after ten years if new CUP applications were not timely submitted and approved. Past renewals of CUPs and recent approvals of co-locators' applications to install equipment on the sites did not give American Tower a reasonable expectation of renewals or approval of their CUPs, according to the Court, when the language of the CUP gave a termination date for the permit.
Unfortunately, there are many of these cases in California and across the U.S. Check your CUPs and SUPs. Read them carefully. When do they expire? Do not assume, even if local Code allows for renewal of your CUP or SUP that these permits will be renewed. Start the process early, at least 18 months in advance of the permit expiration date, by entering into a dialogue with local planning staff. Know what issues you will need to address to get your CUP or SUP renewed. If you have used all your renewal terms or, if the local jurisdiction has indicated they will not renew the permit, you will need to get new CUPs or SUPs for the site. Start by finding out whether the CUP or SUP process and Code requirements have changed. Then begin the approval process while the existing CUP or SUP is in effect to avoid the unpermitted equipment issues, the removal of equipment issues, and any gaps in coverage.
Time to start making your list.
---
Ronald Reagan & Uber
By Tom Leddo
Vice President
Ronald Reagan
In October of 1984 I had just begun my senior year of high school in Tuscaloosa, Alabama and Ronald Reagan was running for reelection against Walter Mondale. President Reagan came to the University of Alabama on a campaign stop and I had the opportunity to hear his remarks.
I was one month under the voting age of 18, but more importantly to me, I was thirteen months under the old legal drinking age of 19 in the state of Alabama and now, thanks to President Reagan, I was 37 months under the new drinking age of 21.
Reagan had recently signed a law that withheld federal funding for highway construction from states unless they had a drinking age of 21 so Alabama and several states raised the age to 21 to get the money. This law immediately added two loooong years to my desire to legally consume cheap beer in a can.
While at the time, I certainly was not very knowledgeable of the Tenth Amendment to the U.S. Constitution, I do know that Reagan had often spoke against the intrusion of the Federal government in matters belonging to the state and local governments. So I, of course, considered him a hypocrite for forcing the states to change their own laws.
President Reagan changed my mind with a response that he gave to a college student who asked him about this issue in a question-and-answer session following his speech. Reagan replied "…when we saw the difference in areas where the drinking age had been increased and the difference in the accident rate, that I just thought that your lives were worth it."
On that day; with that simple, unrehearsed, well delivered statement the "Great Communicator" convinced me that waiting two more years was a good idea and I never complained about it again.
[See the entire exchange between President Reagan and the student in the inset included herein.]
Uber
You may have seen one of the many recent articles in the news that addressed the reduction in the number of drunk driving related deaths in cities after the introduction of Uber – the Ride Sharing service that works through an app on your smartphone. Articles appeared in a variety of publications across the political spectrum such as Newsweek, the LA Times, The Daily Beast and Fox News. Each of these articles is based on a study by Brad Greenwood and Sunil Wattal of Temple University where the authors note "we find a significant drop in the rate of (alcohol related vehicular) homicides after the introduction of Uber."
The coupling of Uber's disruptive technology with the company's labor practices has made the ride-sharing app quite controversial. Uber has severely dented the market share of traditional taxi services despite the fact that Uber drivers are considered self-employed contractors rather than employees, thereby receiving no benefits such as health insurance.
A class-action lawsuit over Uber labor practices is playing out in California and protests have risen across the globe including one in France that forced Uber to suspend its service in order to protect its drivers from violent attacks.
Love or hate Uber, there is no denying that the company has rocketed from a start-up in March of 2009 to company which the Wall Street Journal notes as having a valuation of over $50 billon (yes that is a "b").
I acknowledge that I am a fan of the Uber business model. I have used the service several times in many cities and compared to traditional taxi services I have had friendlier drivers, cleaner cars, faster pick-ups and no body odor issues.   But even if I weren't a fan, the aforementioned news articles would sway me to support Uber for a single reason.
Just as I heard Ronald Reagan say over thirty years ago, "… lives are worth it."
The following is an excerpt from the transcript of a question-and-answer session between President Reagan and students at the University of Alabama regarding the legal drinking age. – October 15, 1984
Q: Good morning, Mr. President. Welcome to the campus. I'm Ed Howard from Birmingham, and I'm representing the Crimson White—that's the campus newspaper. And so, our question for you is concerning the legislation that you signed into law that requires States to raise their legal drinking ages to 21. Why is this action not a contradiction of prior stances you've had against Federal intrusion in the State matters? And if it's a justifiable contradiction, does that now mean that the ends justify the means?
The President: I have to tell you that you're absolutely right, that my concern was over—having been a Governor for 8 years—this intrusion that I've been trying to eliminate since I've been President of the Federal Government. But in this particular instance, there was a tangled question with regard to State borders—and interstate type of thing where some States with one drinking law, and the others not-and then you had the traveling across the State line to where it was available, and then driving back, sometimes intoxicated and the great loss of life that the accidents that we're having because of that.
And I had to say finally that in this instance and with the kind of gray area that was there, I had to say that the—when we saw the difference in areas where the drinking age had been increased and the difference in the accident rate, that I just thought that your lives were worth it.
---
California Governor Signs Legislation Aimed at Accelerating Wireless Deployments
By Cynthia Hanson
Land Use Counsel
On October 9, 2015, California Governor Jerry Brown signed Assembly Bill 57 ("AB 57") into law. As you may recall from the July edition of the Md7 Communique, AB 57 will put teeth into the FCC's Shot Clock Order of 2009. Beginning January 1, 2016, if a city or county does not timely approve or disapprove a wireless facility siting application, the application will be deemed approved by operation of law. The new law will not apply to projects located on fire department facilities or those eligible facility requests covered by Section 6409.
As to be expected, AB 57 was supported by the wireless industry, with significant opposition from various municipalities, local agencies, and related advocacy groups. The full text of the new law can be found here.
How will AB 57 work? For modifications and collocations that do not qualify as an "eligible facilities request," cities and counties must approve or deny a wireless siting application within 90 days of submittal. For new builds, the city or county will have 150 days. Upon the expiration of the applicable review time period or "shot clock" and, so long as you provided all required public notices of your application, you then must notify the city or county in writing that their review period has passed and your proposed modification or new build is "deemed approved." After that, you pull your permit and begin your build. To stop your build or otherwise challenge the "deemed approved" status, the city or county will need to file a lawsuit within 30 days from the date of your letter notifying them of the deemed approved status.
There are two ways these review timeframes can be extended. First, if you do not submit a complete application package and the city or county timely requests the missing information, the review timeframe will be extended by the amount of time it takes you to get the requested information to the city or county. The second way the review timeframe can be extended is if you enter into a written tolling agreement with the city or county to extend the review period.
Eligible facility requests were specifically carved out from AB 57 and remain subject to the 2015 FCC shot clock of 60 days for review of minor modifications to existing sites. For sites not in the ROW, an eligible facility is defined as a modification that does not result in an increase of more than 10% in height or the height of an additional antenna array plus 20 feet, a modification that does not protrude from the edge of the tower by more than 20 feet, a modification that does not involve the installation of more than 4 new equipment cabinets at an existing site or a modification that does not involve excavation or deployment outside the current leased/owned area. To read more about the approval process for eligible facility requests and qualifying sites within the ROW, click here.
Many cities and counties will revise their codes and procedures to comply with this new law, although it remains to be seen which jurisdictions will do so before the New Year. Some cities and counties may choose to ignore the requirements of AB 57 and challenge the law in Court where these municipalities will hope to win relief from what they view as an illegal power grab.
As with any new law, you can expect a period of confusion about how to implement the new requirements and even different treatment among jurisdictions. It will be important to do your research and know the applicable requirements before submitting your siting application so you can make the best use of this new law.
In summary, you must do the following to obtain the deemed approved relief provided by AB 57:
Submit a complete application package.
Comply with all public notice requirements.
Wait the applicable review time period – 90 or 150 days, if no extensions are agreed to – for approval or denial.
If no response is received, notify the city or county in writing that the review time period has passed and your application is now deemed approved.
Pull your building permit and proceed to build.
To make it easier to enforce a deemed approved resolution of your siting application, keep copies and get acknowledgement, if possible, from the city or county of your submittal date, all public notices, and of your deemed approved letter.
As cities and counties adjust their processes and procedures to reflect the new "normal" of this law, let's hope that this law accomplishes its underlying purpose of truly accelerating wireless siting approvals in California.
---
WWLF Promotes the Exchange of Ideas and Information
By Tom Leddo
Vice President
The first time I was invited to a Women's Wireless Leadership Forum (WWLF) event by Nancy Winch I had to ask her, "Why are you inviting me?"
I was at the Wireless Infrastructure Show (PCIA) in Nashville at the Gaylord Opryland Hotel in 2009, when Nancy asked if I was attending the WWLF breakfast the following morning. The event featured Anna Gomez, Deputy Assistant Secretary for Communications and Information for the National Telecommunications and Information Administration (NTIA) of the U.S. Department of Commerce (DOC). Ms. Gomez had previously served in the FCC and was newly appointed to the NTIA. She was a very impressive speaker for a group that I had only learned of the day before.
I had not planned on attending, but Nancy is a good saleswoman so she persuaded me to get out of bed very early the next morning, even if it meant I had to put on my suit. It was my own fault that I rolled in too late to get any sausage, eggs and grits.
To my surprise, it was a really good event, and as many men as women attended it.
Okay, WWLF, you got my attention.
Since then, I have met many women in wireless that I respect, like Patti Ringo and Md7's own Lynn Whitcher. These smart and skilled women, who are also excellent networkers, have helped develop an impressive organization. WWLF hosts educational sessions available throughout the US, which include Lunch-and-Learns, online courses, guest speaker events and one-on-one mentoring programs. WWLF members certainly have a leg up in advancing in their careers.
Additionally, WWLF hosts the best networking events in the wireless infrastructure industry.
I am now a regular attendee at the annual WWLF events at PCIA (The Wireless Infrastructure Show) and at CTIA. Several members of the Md7 team attended the most recent event, which was held on the rooftop of the Cromwell hotel at Drai's Night Club during the 2015 CTIA Super Mobility week in Las Vegas.
Simply put, these parties are excellent opportunities to meet and see many people in our industry. Each year, I make new acquaintances and catch up with old friends, all while exchanging knowledge and ideas.
---
Over Half of All People Suffer from Nomophobia
By Tom Leddo
Vice President
---
 If you left home for work without your mobile phone would you turn around and go get it?
What about if you were just
going to the grocery store?
Actually I have done both.
---
Nomophobia – the fear of being out of mobile phone contact.
According to Wikipedia, Nomophobia stands for No Mobile Phone Phobia and is a phrase that was coined in a 2010 study by the UK Post Office which commissioned a UK-based research firm to study the anxieties suffered by mobile phone users.
Setting aside the question of why the postal office spends money on studies of this nature, some of the findings are very interesting.
58% of men and 47% of women suffer from nomophobia.
53% of mobile phone users feel anxious when they lose their phone, have a dead battery or are outside a reliable coverage area.
One in two people never cut their phone off.
This study was completed in 2010. Surely in 2015 the iOS and Android devices have only driven these stats higher.
Business Insider ("BI") published an article that cites Dr. David Greenfield at the University of Connecticut School of Medicine who connected smartphone addiction to dysregulation of dopamine. BI quotes Greenfield as saying, "Every time you get a notification from your phone, there's a little elevation in dopamine that says you might have something that's compelling, whether it is a text message from someone you like, an email, or anything. The thing is you don't know what it's going to be or when you are going to get it, and that's what compels the brain to keep checking. It's like the world's smallest slot machine."
Personally, I often experience phantom vibrations on my belt and reach for my phone even when it is not vibrating.
Having my mobile phone at work is a necessity. Not only do the majority of people who call me for work purposes use my mobile number rather than my desk phone, I get countless texts and emails throughout the workday.
Having my mobile phone at the grocery store… well I do use a grocery app for my shopping list and if I don't  have my phone handy I'll end up going back to the store because I forgot something on my shopping list-app.
While I am completely capable of putting my phone in airplane mode when working-out or on vacation so I can still use it for music or as a heart-rate monitor without interruptions, I'll be candid in saying that I feel a little naked if I don't have my phone with me wherever I am and would probably go back to get it regardless just to keep it with me.
---
Md7 Acquires Lexcom Development – The Lexcom Point of View
By Louis Levy,
Founder of Lexcom Development and now the Vice President of Business Development for Md7
App developers for smartphones and tablets are continuously creating new ways to support and enhance the modern lifestyle. While the penetration rates for mobile phones far exceeds 100% in many nations, the excitement generated by apps are driving the penetration of smartphones to similar heights.
This growth has subsequently also driven the need for continued expansion of the wireless infrastructure. Since the early 90's, carriers have been aggressively expanding infrastructure to keep up with this insatiable demand for ubiquitous connectivity and unlimited bandwidth. But the latest growth, driven by the exploding demand for data, fueled the need for new better deployment models in the wireless infrastructure arena.
Lexcom Development was founded in 2011 by some industry veterans who realized a simplified but smarter approach to infrastructure deployment was necessary in the 4G world and beyond. We spent a lot of time evaluating and understanding what our customers really wanted and how we could reduce risk and costs without a negatively impacting quality or speed. The very customer-oriented approach that Lexcom pursued was well received and within a few years Lexcom had become one of the leading and largest development firms in the Pacific Northwestern United States.
This growth was exciting but also presented a new challenge – how to scale operations without sacrificing quality, consistency and speed. We knew we could continue to hire and train great people and empower them to be creative, independent thinkers, but as operators began assigning Lexcom more deployment projects we also needed better tools and data management capabilities.
We started evaluating the plethora of off-the-shelf project management programs and also explored developing our own deployment-tracking tool. Out-of-the-box software was expensive, cumbersome and inflexible and we simply did not have the expertise to develop our own alternative in time to meet demand. And anyone who has been in the industry knows, using spreadsheets to track multiple site development projects is a tremendous headache and promotes inconstancy.
Ultimately our search led us to Md7 and their LiveTrack™ site development software.
LiveTrack was originally developed by Md7 to support national lease optimization programs for the major US operators, but had evolved over time to enable Md7 to manage the tens of thousands of concurrent transactions associated with various types of deployment projects nationwide. It was simple, intuitive, and scalable and was developed specifically for the unique, cellular site acquisition work environment. I personally had known Md7's Founder and CEO, Michael Gianni, for a number of years and our respective teams had worked together on a couple of projects in the PNW region, so trust was already high between our two organizations. After a couple quick demos, Lexcom became a customer of Md7 and deployed LiveTrack on our own internal site deployment projects.
Lexcom saw immediate improvements in team collaboration, data integrity and real-time visibility. We were thrilled with LiveTrack's performance and continued to collaborate with the Md7 team to expand our use of their system and data integrity team. As our relationship evolved, it soon became evident that we had the making for a great partnership beyond just using their software and data management skills. Our people enjoyed working together, we had similar cultures, and both companies believed the current business environment required site development companies to deploy new and upgraded sites faster and cheaper than it had ever been done. Both companies also maintained unique, fun and motivating work environments, which helped us to recruit the best and brightest people in our industry and provide customers a better service model.
Lexcom and Md7 were committed to developing a new deployment model for the wireless infrastructure industry and we had similar ideas about how to do so – hire good people, treat them well, train them, give them world-class tools to make them more efficient, and trust/empower them to execute. We also saw the need for firms to be able to scale quickly, and provide, self-perform and truly own their deliverable throughout the full site acquisition development lifecycle.
There are lots of firms offering to aggregate development services at a regional or national level but greater than 90% of the critical front-end site development activities are outsourced in these models. While aggregation and simplified reporting is nice, it's only valuable if it supports the customer's goal of better, faster, cheaper production. The multiple layers of subcontracted vendors in current deployment models increases transactional complexity and inefficiency, promotes data inconsistency and clouds true ownership of the final deliverable. With a similar vision to build a better solution and perfectly aligned resources to support that vision, it was a no-brainer to combine our teams.
I am confident that Md7's ability to manage large-scale projects will enable Lexcom to grow our market based operations faster than we could have independently. I am also confident that Lexcom will bring Md7 a clear ability to execute on all phases of turnkey site development necessary to prove a unique and superior customer experience.
As the newest members of the Md7 team, we are excited about the rapidly growing opportunities we face in the second half of 2015.
---
Previous
Next