Zoning Forecast for 2016
Cynthia Hanson
Md7 Land Use and Government Affairs Counsel
It's been said that to know where you are going you must look at where you have been. This statement could not be truer for telecom zoning than in 2016. To understand what is on the horizon for telecom zoning in 2016, a look back at 2015, a year when many new laws and regulations were put in place affecting zoning for telecom, is necessary.
In 2015, the FCC's new rules for wireless siting went into effect when its "Acceleration of Broadband Deployment by Improving Wireless Facilities Siting Policies Order of 2014" became effective. These new rules which include a shorter 60 day shot clock for review of discretionary siting applications (zoning) and a deemed approved remedy for qualifying deployments, were put into place to speed up the wireless siting process. The FCC's rulemaking was upheld by the appellate court in December. However, because many cities and counties continue to believe that the FCC overstepped its authority, an appeal to the US Supreme Court will most likely be filed early in 2016. Whether appealed or not, all provisions of the FCC's new rules for wireless siting applications are effective and cities and counties must follow those new rules, processes and timelines. In 2016, expect to see more cities and counties revise their code provisions to comply with the new FCC regulations.
During 2015, in the wake of the FCC's rulemaking, various states passed laws aimed at accelerating the wireless siting approval process. In California, Georgia, Indiana, and Iowa, new laws were passed which force cities and counties to either approve or deny discretionary wireless siting applications within set periods of time (90 days for mods and 150 days for new builds) or the applications will be deemed approved. In 2016 more states will follow suit and pass similar laws aimed at expediting wireless modification and new build approval processes. Court challenges to these new laws could also take place in 2016.
DAS, Small Cells, and Network Densification were hot topics in 2015. Carriers, equipment manufacturers, and cable companies are looking at how they can improve wireless infrastructure and boost speed and capacity. Utility poles, streetlights and stoplights are increasingly being viewed as micro site possibilities. Poles in the ROW that require only a Public Works approval process for installation of these micro sites are frequently sought in an effort to avoid the lengthy planning department review process found in many cities and counties. The issue of fees, placement, and what constitutes usable space can vary based on the pole owner. The FCC addressed the rates for pole attachments in 2015. A State can opt out of the rules if they put in place their own. In 2015, the Washington (state) Utilities and Transportation Commission adopted new regulations for pole attachments, including limiting fees and defining usable space on public owned poles. In 2015, the California Public Utilities Commission was scheduled to vote on new regulations that would set fees, placement, and usable space for wireless carriers, but decided these regulations needed further study.   In 2016, expect to see California and other states issue rate, placement, and other regulations for the use of utility poles in the ROW.
As the FCC and state utility commissions address the issue of rates, usable space, and equipment placement on poles in the ROW, the need for, and type of zoning review of, these deployments remains up to each city or county. Some cities and counties require only Public Works approval while others send the application package through the standard zoning review process, and some jurisdictions take a hybrid approach with design approval from planning, but final approval through Public Works. Look for new local ordinances specifically aimed at wireless attachments on poles in the ROW in 2016. On a state level, in California, the legislature is looking to streamline the process for use of existing poles, installing a certain type of antenna. A bill is currently pending in the state legislature which would exempt zoning approved poles located in the ROW from any further zoning review when an application is made for a permit to install strand-mounted antennas on the lines coming from these poles. The use of these micro antennas is another way the wireless industry is attempting to address the needs of its consumers. This California law and similar laws pending in other states will go into effect in 2016.
Towards the end of 2015, the FCC requested comments on expanding SHPO exemptions for DAS and Small Cell installations. This action follows up on the FCC's Infrastructure Report and Order of 2014 mentioned above, where they anticipated further relief for DAS and Small Cell installs. In 2016, the FCC is expected to amend the 2001 Nationwide Programmatic Agreement to include new SHPO exemptions for qualifying DAS and Small Cell deployments.
The FCC started 2016 by issuing a report on what they found to be the lack of availability and poor quality of rural broadband. This report was issued in advance of the FCC public meeting scheduled for the end of January. The topic has already spurred a lot of discussion and will continue to be hotly debated in 2016 as the FCC and wireless industry attempt to tackle this problem.
The upcoming year looks to be another year of action on federal, state and local levels with new laws and regulations aimed at speeding sites to on-air, challenges to these laws, and the need to balance the interests of all sides in this debate. Will 2016 be the year we all just learn how to get along?
---
Md7 Uses Federal Law to Reduce Deployment Times
Daniel Goodrich and Sean Maddox
Md7 Land Use Department
In 2012, Congress passed a federal law to reduce site deployment timeframes for modifications and colocations (often referred to as "Section 6409"). Although the industry was excited about the possibilities under this new law, carriers and municipalities have been unsure how the regulation should operate in practice. Even today, uncertainty persists despite the FCC's 2015 clarifications in the law, because 6409's "shot clock" requiring local municipalities to streamline approvals has a lot of bark, but no bite.
The challenge presented by 6409 is that the FCC asks carriers to be comfortable deploying new equipment relying only on a notice letter to the jurisdiction stating the project is "deemed approved." At Md7, we have found that clients prefer to have a document issued by the municipality confirming that the project is approved, as opposed to a "deemed approved" notice on carrier letterhead.
We have taken a practical approach to this challenge by working with jurisdictions in some of the toughest markets in the U.S. to harmonize outdated and onerous zoning processes with the streamlined timeframe mandated by federal law. The result: collaboration, not contention.
Working with local municipalities provides peace of mind for our clients because we deliver a tangible approval document issued by the municipality in what can often be half the traditional timeframe under the existing siting process.
The following examples highlight Md7's recent approach and success in significantly reducing client deployment timeframes across modification and new-build colocation projects:
Village on the North Shore of Long Island, New York
Municipality estimated a 60 day turnaround for zoning approval. Md7 obtained zoning approval in 35 days.
Background: Located on the north shore of Long Island, NY, this affluent village maintains a stringent zoning code and approval process for "aesthetically displeasing" telecommunications facilities.
For a relatively simple modification to an existing water tower, the Village initially required an approximate 90 day process, including: (1) a building permit application; (2) a building permit denial; (3) a Zoning Board of Appeals (ZBA) application; (4) an in-person pre‑submission conference; and (5) ZBA and building permit approval.
Approach and Result: Md7 collaborated with Village counsel to educate municipal officials of the Village's obligations under the new federal requirements. As a result, Md7 successfully obtained an outright waiver of the ZBA process and an approved building permit simultaneously, which Village counsel advised "had never been done before."
Historic Waterfront Community in New York
Municipality estimated a 120 day turnaround for zoning approval and building permit approval. Md7 not only obtained zoning approval, but also building permit approval within 67 days.
Background: Bordering New York, Connecticut and the Long Island Sound, this historic waterfront community also traditionally presents quite a challenge to telecommunications modification applications.
For a relatively simple modification to an existing smoke stack, the Village initially imposed 3 separate public meetings/hearings to span over 90 days, not to mention approximately an additional 30 days to obtain the building permit.
Approach and Result: Md7 communicated with the Village Attorney and Planners, ascertained the Village's position and motivations regarding 6409, and compromised to shave approximately 60 days off the entire zoning and permit application process.
Major Maryland City in the Process of a Complete Overhaul of its Zoning Code
Municipality estimated a 90 day turnaround for zoning and building permit approval. Md7 not only obtained zoning approval, but also building permit approval within 44 days.
Background: While the City offered, at first glance, a streamlined zoning and permitting process (i.e., a "one-stop-shop"), a new carrier's colocation on a downtown rooftop proved to be more challenging from a zoning perspective than initially anticipated.
Md7 submitted a single application electronically; the application passed every departmental review, only to arrive at the zoning department, which flagged the application for a public hearing. In practice, the City interpreted its Code to subject all new antenna installations to a public hearing.
Approach and Result: Md7 persuaded the City Zoning Administrator to recognize that the colocation qualified for expedited treatment, and the City soon thereafter waived the public hearing, administratively approved the application, and issued the final building permit, saving the client approximately 45 days on its build schedule.
Through a practical approach to 6409 challenges, Md7 continues to build on its reputation as an innovator in wireless real estate portfolio management by expediting traditional site acquisition timeframes while providing our clients and municipal constituents with clarity in the wake of new federal law.
---
Product Review – Google's Project Fi
Cyrus Sidhwa
Lease Consultant
I've had cell service for so long, I can't even remember when I first got it. However, until 2016, despite the billions of dollars that the major networks spend on advertising, I never felt compelled to switch service providers. All of that changed for me with the advent of Google's Project Fi.
How did I find out about Project Fi? I'll admit it: I'm a Google fanatic. I use Google Photos, Google Music, Google Drive, Google Maps and Waze, I'm typing this article in Google Keep, and of course I use Gmail and my cell is Android. My fandom gave me the curiosity to check out Project Fi. Once I started digging, there were 2 basic concepts that drew me to Project Fi: price and network performance.
Let's start with performance. How could Google possibly create a competitive nation-wide network if they are just now entering the game? Rather than trying to throw antennas up on 100,000 towers, Google created a truly innovative and technology-driven solution. With Project Fi, you now have both T-Mobile AND Sprint on the same phone. The best part is the phone automatically routes you to the faster of the two networks. You get the best of two of the nation's largest LTE networks for the price of one!
In addition to providing access to both cellular networks, Project Fi also improves the way you interact with Wi-Fi. Whenever a Project Fi customer is connected to an open Wi-Fi network, Google protects the user's data. By sending data through a Virtual Private Network, Google prevents others from being able to see (and steal) your data. This means you can now feel secure when entering sensitive information like a credit card number at your local coffee shop. Pretty cool.
OK, so what about price? First of all, their pricing is beautifully simple and extremely fair. The plan starts with unlimited talk and text for $20 a month. Then you pay $10 per GB of cellular data. Although you initially choose how many GB you pre-pay for each month, it doesn't really matter. For example, let's say you choose a 2GB a month plan (remember, Wi-Fi usage doesn't count against this). You would be pre-paying $20 a month for the data. If you only use 0.9 GB of data in a month, Google will lower your next month's bill by $11 (for 1.1 GB of unused data). Nice! So what's the catch – do they burn you if you go over? Nope. If you use 2.7 GB in a month, your next bill will be $7 higher (no surcharges, etc). There are no annual contracts or termination fees. Finally, there are no more of the seemingly endless monthly fees (if you look at your cell phone bill, you'll probably find you're paying over $20 a month in fees alone). I am on the 2GB plan: $20 for unlimited talk and text and $20 for data. My first bill, including fees and taxes, is only $42.49. On average, I use about 1.5 GB of cellular data each month, so I'll probably save another $5 a month too. Simple and fair… I love it!
There are two major limitations on Project Fi during their "Early Access Program." First, there are currently only 3 phones with the technology to be Project-Fi capable: The Nexus 6P, Nexus 5X, and Nexus 6. Another shortcoming of the early access program is that there are no family plans. Since my wife is an iPhone user, she can't join Project Fi yet. Between our two plans, we are still going to be saving about $60 a month! However, for larger families, Project Fi's lack of a shared plan may be an issue.
I have to admit, I'm excited to be a part of this new technology. As with any brand new technology, I'm guessing there will be a few glitches along the way. That said, I've only been with Project Fi for a week, but I'm happy with the network so far. If you're an Android user who doesn't need a shared family plan, Project Fi might be a great fit for you.
---
I'll have one order of "Stir-Fried Wikipedia"
Tom Leddo
Vice President
In his keynote address at CTIA 2015, Wikipedia founder, Jimmy Wales told a humorous side story about the name "Wikipedia" somehow getting mistranslated into menus at Chinese restaurants (see the included photo).
Next time I am in Beijing I'll be sure to sample one order of the "Stir-fried wikipedia", the "Stir-fried wikipedia with pimientos" as well as the "Fried special wikipedia" from the menu in the photo. I have no idea what I'll get but I think I can muster up the courage to give all three a try.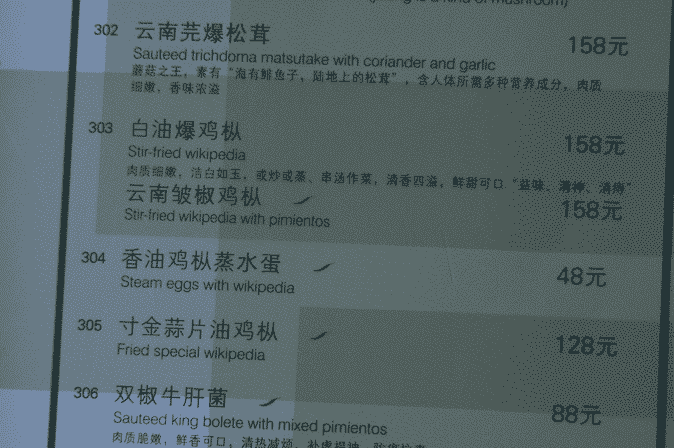 Wikipedia, the web-based, free, editable encyclopedia, contains over 35 million articles written/edited by over 70,000 online contributors in 290 different languages.
So, as Wales tells the story, when he asked a team of Wikipedia's contributors in China how this could have possibly been mistranslated, they collectively came to the conclusion of "we have no idea".
"Hey I'm making the new menu, what's the English name for those flat crispy mushrooms?"
"Um, there isn't one."
"Well what should I put down here?"
"I don't know, look it up in Wikipedia."
"What?"
"Wikipedia!"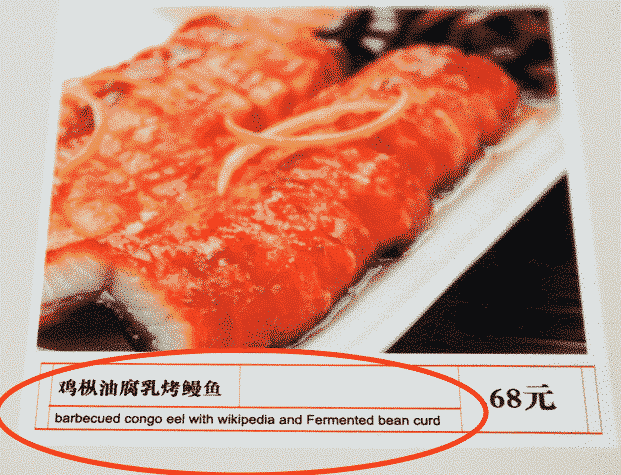 I argue that Mr. Benson's theory is as good as any. However, it doesn't explain how other restaurants came up with a similar mistranslation since the one he ate at is not the only one with this mistranslation.
Another blogger, Mark Liberman also calls out a mistranslated use of the name Wikipedia – "barbequed congo eel with wikipedia and Fermented bean curd." While it sounds like a great deal at only 68 Yuan, I simply don't think I am adventurous enough to try an order of "congo eel" even if this place makes the best tasting "wikipedia" in all of Beijing. I don't order eel sushi and I am not going to order "congo eel" either.
Blogger Chris Leo posts others that are funny too – the following are my five favorite. However, you can use Google to find a several more side-splitting translations, but beware, many contain vulgar language.
"Chicken without sexual life" – Tong Zi Ji 童子鸡(do you mean virgin chicken?)
(Proper English translation should be "Spring Chicken" or "Poussin"/"Coquelet" in French). They refer to young chickens which have been bred for eating (for less than 3 months).
"Red burned lion head" – Hong Sao Shi Zi Tou 红烧狮子头
(Proper English translation should be "Freshly Stewed Pork-balls") – note that it's actually pork, but the fact that it looks like lion head, that's why it's called Lion Head (shizi tou) in Chinese. But in English, it would really be misleading if people mistake it as lion meat.
"Husband and wife's lung slice" – Fu Qi Fei Pian 夫妻肺片
(Proper English translation should be "Spicy Pork Lung-slice") – it's a Sichuan food.
"Government abuse chicken" – Gong Bao Ji Ding 宫爆鸡丁
(Proper English translation should be "Chicken with Cashew Nut" or as it is known in the west, simply, "Kung Pao Chicken"). It's actually a Chinese food of Shandong origin, but is often mistaken as a Sichuan food as it's quite spicy. I don't know its historical origin, but there must be a history anecdote that leads to why it was literally named "Court Abused Chicken".
"Bean curd made by a pock-marked woman" – Mapo Doufu 麻婆豆腐
(Proper English translation should be "Bean curd with spicy minced pork") – it's a Sichuan food.
---